I had just finished dinner with friends in Santa Monica and we decided to walk off our over-indulgent meal with a trip down the 3rd Street Promenade. The shops had just closed, so it was window shopping all the way, and that was just fine. I was feeling fat and didn't want to send myself into a tailspin of emotional instability in Banana Republic.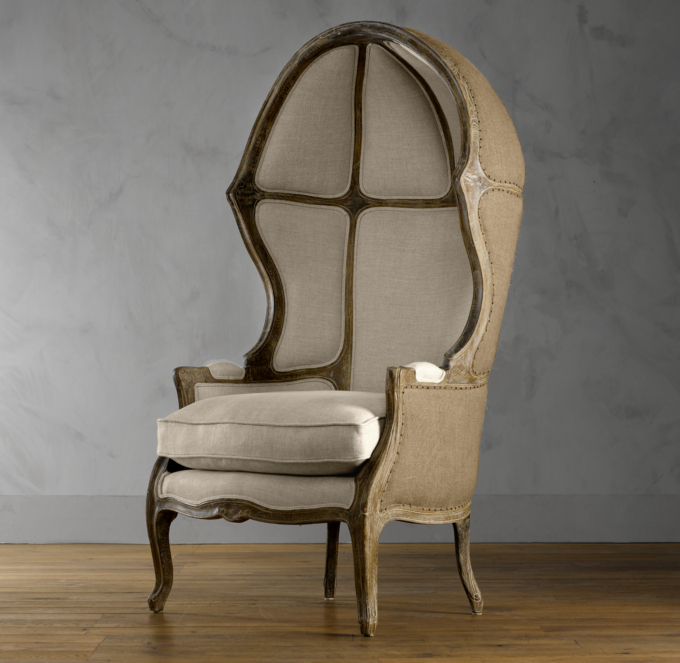 The Versailles Domed Chair at Restoration Hardware.
Inspired, but ultimately drab in pickled wood and Burlap.
I do give RH credit for being unique.
We passed in front of Restoration Hardware and one of my companions asked me what sort of chair was in the window. An innocent question, but for the first time, I really didn't know. I usually know obscure minutia, but this time I was left out in the cold.

I had seen this sort of chair dozens of times before, usually in those over the top rooms no one could ever live in, but were nice to visit. The chair was svelte, with cabriole legs and closed arms. The back ascended higher than a wing back chair would have, and ended in a dome shape at the top. Quickly, I said it was a Balloon Chair, and ushered us away to another window.

After I recovered from my shame, I found out I was correct in my assessment based name. But I also discovered a plethora of other nomenclatures, put forth to confuse anyone who actually wants to find out the name of this flipping chair. In addition to being dubbed a Balloon Chair, it is also known as a Porter Chair, a Dome Chair, a Canopy Chair and a Hooded Chair. I'm almost certain there are a number of other terms for the chair, all equally obscure, that will still get you now where when trying to describe or purchase one of these suckers.
 
Canopy Chairs in the Dining Room
of the Bergdorf Goodman
Restaurant.
As I mentioned, these little numbers have been popping up all over the place. When Bergdorf Goodman reopened their Restaurant, after a redecoration by Kelly Wearstler, they were used as dining chairs. While I think that's lovely and dynamaic, it's not terribly convenient to drag one the these things up to a dining table. The wind resistance alone would require a spotter.
For those interested, the origins of the canopied chair dates back to Ancient Rome. The wealthy elite would be carried though the streets in what is commonly known as a Sedan Chair, an enclosed portable structure with a bench seat used for transport; powered by men, not horses. Think of a port-a-potty on rails carried by two strapping guys (one in front, one on back) and you get the idea. This idea evolved, the Sedans becoming more elaborate, I feel they reached their crescendo in the 18th Century, which is also when they seemed to die off.
A Practical, if plain,
Porter Chair.
As for the name 'Porter Chair', it's derived from the occupation of the chairs original occupant. As the story goes, this sort of chair would be used by a Porter or Doorman who would be stationed at the Entry or Gatehouse of an Estate (we're going back to the English Renaissance for this one). The homes were so large that even if there were a doorbell, no one would be able to hear it or get to it in time, hence, the Porter.
The canopy and sides would keep out the draft while also keeping in whatever heat the Porter was able to generate as he waited for visitors. Often, there would be a little flip out shelf to hold a lantern. The original Porter chairs were very understated and simple; they were for the help, after all.
To compensate for this simplicity, I have taken the liberty of including some not so simple examples of this marvelous, if not hard to pin down, chair.
- Ian
  
I'm enamored with this style of chair done in Cane.
So very unique. I don't even mind the orange.

An exotic departure in Bamboo. So Indochine.

A more English version, with Button Tufting, Nail Head,

Chippendale style legs, and audacious Zebra upholstery.


I want these. Now.